Truck Industry Survey Shows Alarming Number of Industry Execs Are Unsure of Cost Savings from Implemented Truck Technologies & Features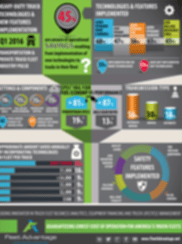 Fleet Advantage recently unveiled results of its latest survey of private and transportation fleet executives showing an alarming percentage of the industry still unaware of the savings achieved by incorporating new fleet technologies. The online survey shows that 45% of respondents are unsure of operational savings resulting from the implementation of new technologies to heavy-duty trucks in their fleet.

For full results of the survey download our infographic.