FLEET ADVANTAGE 2020 BENCHMARKING SURVEY UNVEILS LATEST HEAVY-DUTY TRUCK SAFETY AND LIFECYCLE TRENDS
Transportation Fleets Leveraging New Equipment and Advanced Safety Technologies Reduce Accidents and Litigation Exposure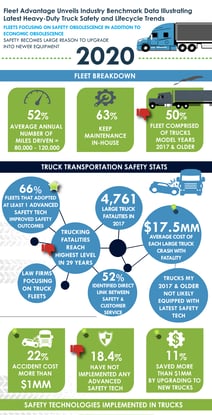 Fleet Advantage released today results of its latest industry benchmark survey, showing the impact new safety technologies have had on transportation fleets, their drivers and the savings that newer technologies contribute to the bottom line.
The survey also addresses additional factors motivating truck replacement, as well as a pulse on industry demand for electric and autonomous technology.
Other Survey Results Include:
More Transportation Fleets Paying Attention to Their Trucks' Safety Obsolescence
Fleets With Newer Trucks Benefit From More Advanced Safety Features
Pulse on Industry Demand for Electric and Autonomous Technology
Other Motivating Factors for Truck Replacement such as Maintenance & Repair
DOWNLOAD NOW!