FLEET ADVANTAGE 2019 SURVEY Shows How Fleets Lack Access to Business Intelligence To Lower Their Total Cost of Ownership
Data Overload And Analytical Tools Shortcomings Prevent Fleets From Effective Fleet Management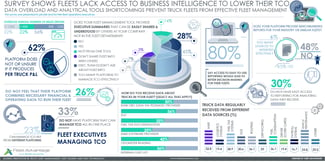 Fleet Advantage released today results of its latest survey addressing the gap that remains for today's fleets in the way they utilize data and business intelligence to run their trucks and fleet operations. The online survey was presented to more than 2,000 fleet executives during April 2019.
There are still fleets today that aren't leveraging data to see their Total Cost of Ownership (TCO), many can't use the data because it lives in disparate sources, and others have no way of sharing reports across the organization. While Big Data has been increasingly utilized across virtually every industry, approximately 33% of respondents said they still do not have a software platform that allows them to manage their fleet's TCO all in one place.
Other Survey Results Show Discuss:
Fleet manager perspective on available platforms that can manage TCO
Type of data regularly analyzed
Benchmarking
Reporting
Profit & Loss Statement
Total Cost of Ownership metrics
DOWNLOAD NOW!