Fleet Advantage Industry Benchmark Survey highlights new trends coming into focus for organizations with transportation fleets.
The bridge to alternate fuels continues to shrink and fleets are recognizing the need for analytic tools for adoption decision making.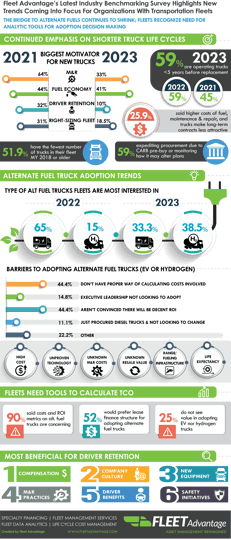 Fleet Advantage announced results of its latest fleet industry benchmarking survey showing how trends in equipment utilization, financing methods and alternate fuel adoption have changed from last year.
Our benchmarking study provides us and the industry with a close look at the issues that are most important to fleet executives today, and the decisions that are helping to shape their business strategies. This year's study shows that business agility, financial flexibility, and a strategic eye toward future fuel options remain front and center for transportation companies and fleet organizations.
The survey addresses additional factors affecting truck operations including:
Replacement cycle trends with emphasis on shorter truck life cycles

Alternate fuel truck adoption trends

Barriers to adopting alternate fuel trucks

Tools required to calculate total cost of ownership

Procurement and finance trends

Most beneficial option for driver retention
DOWNLOAD YOUR COPY NOW!