ATLAAS - Exceptions Reporting
Total Fleet Report Review - Exceptions

Example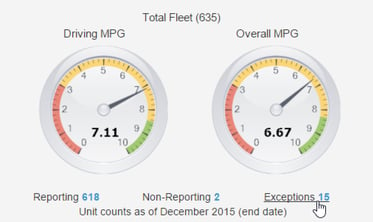 The Exceptions and Not Reporting report will display any units that display issues with their OBC reported data, or lack of.
You'll see the Exception Reason displayed to allow the user to see what the problem was that caused this unit to be flagged as an Exception or non-reporting unit. It's important to keep in mind that multiple reasons can actually cause a unit to show up on this report but only the first exception rule to be met will be displayed. For example, a non-reporting unit will also not have any miles or fuel reported and its MPG will be 0 but the report will only display one of these reasons, not all of them.
A manager would want to investigate the 15 Exceptions listed. Upon clicking on the exceptions, within the exceptions report a user can view the vehicle and why it is marked as an exception, subsequently contacting fleet services.