Gain actionable insights NOW into your data with Fleet Advantage's Advanced Truck Lifecycle Administrative Analytics Software (ATLAAS). Schedule your demo today.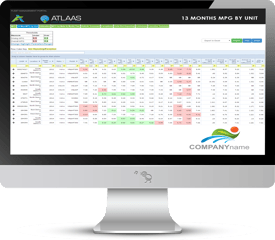 Do you know if you are spending more on maintenance than you should be? Do you know if your 2012 tractors are out-performing your 2011's by .2 MPG or more? Do you know if some of your drivers are staying in 9th gear too long? Do you have a grasp on your key performance indicators?
Fleet Advantage's ATLAAS interface allows fleet managers to monitor and manage fleet fuel economy, interactions between vehicle and driver, maintenance and repair items, vehicle safety systems, total operating cost. With this information, ATLAAS assists manager in determining each vehicle's optimum economic life. The technology behind ATLAAS can help fleets meet their emissions goals and keep operating costs down.